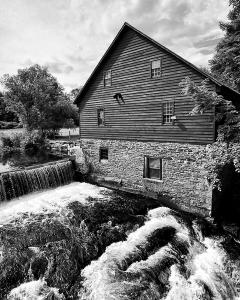 Along Business Route 209 in Hamilton Township stands a mill centuries old. Built by Jacob Brinker in 1730, this old mill was originally a log structure. By 1800, the mill had been replaced by the stone structure which stands today. Jacob Brinker and his mill played an early role in the shaping of America.

In June 1779, General John Sullivan was ordered to march north through Pennsylvania into New York to "subdue"and "punish" the Iroquois Indians. The Iroquois were at that time allies with the British and had organized various raids in the northern frontier against the new nation. Sullivan and his army of 2000 men began their march in Easton and after two days of marching reached Sciota and Brinker's Mill.

Months before Sullivan's arrival, the mill served as a storehouse, holding provisions for Sullivan's Expedition upon its arrival. According to various journals owned by Sullivan's officers, the mill was referred to as "Sullivan's Store." After supplying his troops,...